Tattooing requires great manual dexterity. The artist needs to be able to work unrestricted by tight gloves. Constricting materials won't allow for nuanced work.
However, the gloves will be working directly next to a tattoo gun. The needle will be constantly moving as the fingers help keep the client's skin taut. It's greatly important, then, that the gloves won't easily puncture.
What's the right balance between flexibility and strength in disposable tattoo gloves?
Latex Gloves
The most common glove in the medical community, Latex Gloves have been largely adopted thanks to their ease of use, their flexibility, and their low cost.
The latex is quite thin and allows for complete flexibility while offering a reasonable amount of resistance to puncture.
Because the latex is so thin, tough, they are the weakest of the materials profiled here.
Many people are allergic to latex, too, and prolonged use can cause allergies to develop. If you do use these, then, it's important to check with your client that they don't have a latex allergy themselves.
Vinyl Gloves
Vinyl gloves, on the other hand, will keep you safe from exposure. A much heavier material, vinyl gloves are the best solution when safety is more important than movement.
As an artist, though, limited finger flexibility is a massive hindrance. Unless you're doing large fill-ins, vinyl gloves should be disregarded. Even then they're overkill.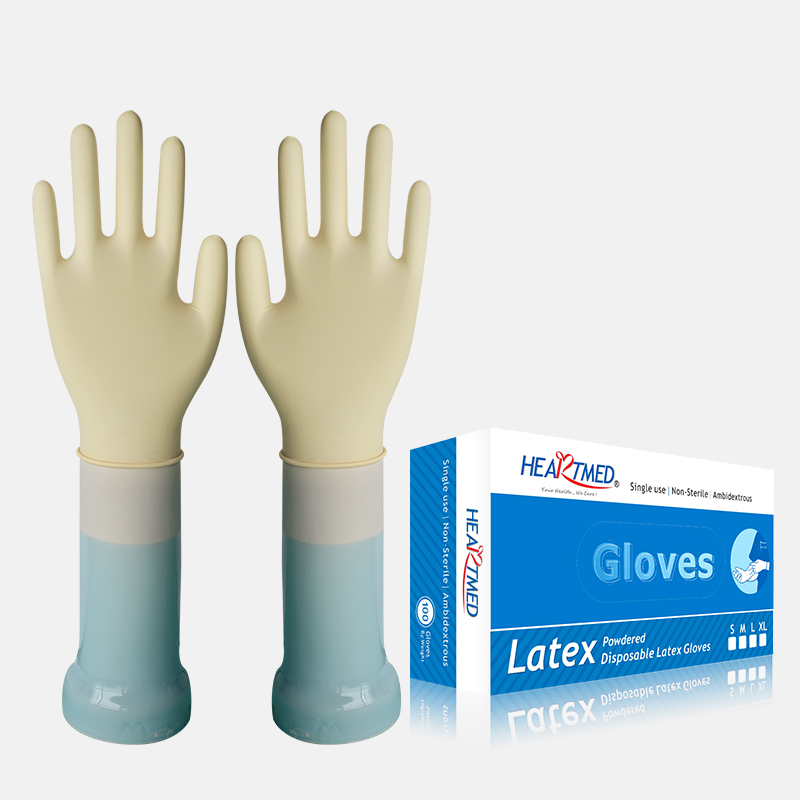 These gloves do have a place in the tattoo shop, however, as they offer excellent resistance to the assorted chemicals used in maintaining proper hygiene in the work space.
Black Nitrile Gloves
Here's the 'just right' of medical gloves. Much thinner than vinyl gloves but stronger than latex gloves, black nitrile gloves offer the best balance between safety and freedom of movement.
Black nitrile gloves are strong enough to last long sessions while offering three to five times the resistance to puncture as latex gloves. They have lower friction than latex and therefore are much easier to put on and are also completely non-allergenic.
They do cost more than latex, however, so priorities must be considered. The extra assurance that black nitrile disposable gloves offer has been enough to make them the most common type of tattoo glove used.
Black nitrile gloves also have strong chemical resistance should cleaning supplies spill and need to be cleaned up.
Having the gloves in black suits tattoo parlors as well. Tattooing is an inherently messy process and black of the nitrile gloves helps hide the mess.
Final Thoughts On Tattoo Gloves
The tattoo artist has a few considerations when choosing tattoo gloves. They have to be durable enough to last lengthy sessions while being safe from possible puncture. They also need to offer the artist the necessary movement to do their work properly. They need to be comfortable enough to be worn for long periods at a time.
Latex gloves offer the flexibility and comfort but sacrifice a high degree of resistance. They can also cause allergic reactions in the client or artist.
Vinyl Gloves shouldn't really be considered due to their lack of movement. The level of safety they offer is far beyond the risk of tattooing and isn't worth the compromise in movement the artist would need to make.
Therefore black nitrile tattoo gloves are the best option. They offer a high degree of comfort and flexibility while offering greater resistance to puncture than latex. They don't quite have the sensitivity of latex, but their durability is much better and they won't cause allergic reactions.
With the dark color hiding any offending mess and their excellent comfort, black nitrile gloves are the go-to choice when choosing tattoo gloves.